Nytol otherwise known as diphenhydramine is a brand of sleep aid medication that is available to buy over the counter (OTC) at a number of chemists and super markets throughout the UK and Europe. The medication is Available in 6 products including original, one-a-night, herbal tablets, Herbal simply sleep one-a-night, herbal simply sleep calm elixir and anti- snoring throat spray. Although it is known for its sedating properties it belongs to a class of medication called antihistamines and is primarily used to treat allergies, colds and cough's.
Many of the Nytol product range contain different active ingredients and this can make it confusing when it comes to knowing exactly what you are ordering. It is therefore important to do your research and ensure you have the best medication to treat your condition. Due to its availability over the counter Nytol One A Night is the UK's top selling sleep aid. It can be bought from a number of leading chemists including , and . The supermarket chains and also stock the Nytol range of products.

The Nytol Range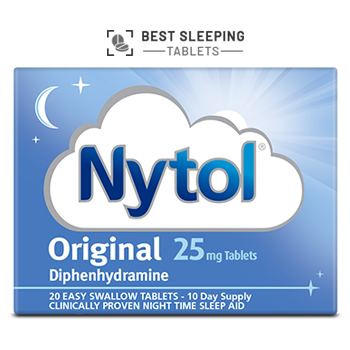 Contains 25 mg of the active ingredient Diphenhydramine Hydrochloride, a common antihistamine that has sleep inducing sedative properties. It should be taken whole with a glass of water 20 minutes before planned sleep and is suitable for adults. By limiting production of histamine, a naturally occurring chemical in your body that promotes arousal, the medication reduces awareness and encourages the first drowsy stage of sleep.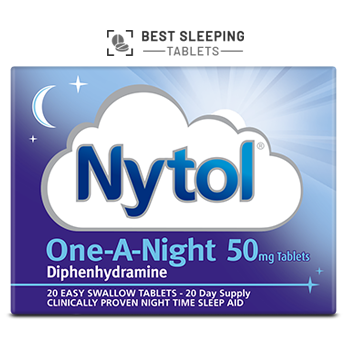 Contains 50 mg of the active ingredient Diphenhydramine Hydrochloride per tablet instead of the 25 mg that the original tablets offer. The medication should be swallowed whole with a glass of water 20 minutes before bed. This product is suitable for adults. It works by reducing alertness which in turn helps the body prepare to fall into the first stage of sleep.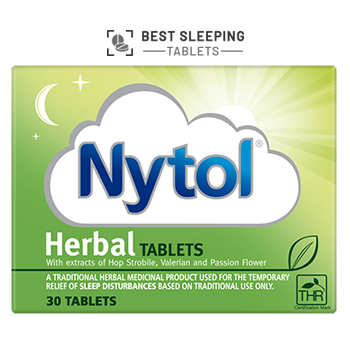 Contains the sedative herbs Valerian, hops and passion flower. The soothing properties of these herbs are known to induce calm and promote sleep. This product is suitable for persons 18 years and above. It should be swallowed whole with a glass of water. This product is perfect for those who prefer natural cures to traditional sleeping pills. The ingredients come from traditional recipes and have been used for centuries to improve sleep.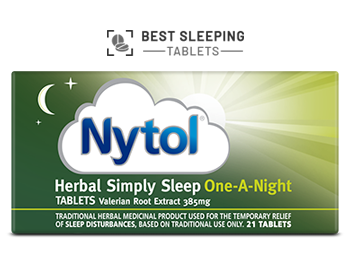 Contains 385 mg of the active ingredient valerian root extract which can be used for the "temporary relief of sleep disturbance, based on traditional use only". It is important to read the enclosed leaflet carefully before use. This product is suitable for persons 18 years and above. It should be swallowed whole with a glass of water. This product offers a traditional herbal alternative to sleeping pills and contains natural active ingredients.
Contains 1.5 ml of the active ingredient Valerian root extract. Patients should take two 5 ml spoonful's 30 minutes before bed with water or another drink if required. This product is suitable for persons 18 years and above. As this medication promotes drowsiness driving or operating heavy machinery should be avoided. The relaxing formula helps to provide relief from symptoms caused by mild anxiety and promotes sleep. As this medicine is in a liquid form, it is perfect for people who prefer not to take tablets.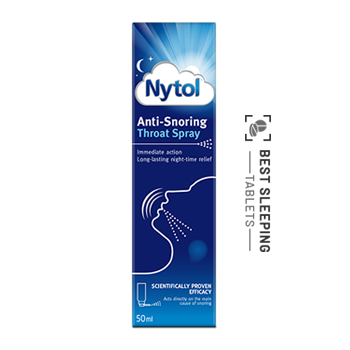 The Anti-Snoring Throat Spray has a unique foam formula, that helps to reduce snoring. The spray coats the tissues at the back of the throat, directly targeting the cause of the snoring, it begins working immediately and generally lasts throughout the night. Before using this product, patients should "Shake the bottle vigorously and attach the diffuser to the nozzle of the dispenser. Hold the container upside down and distribute the foam towards the back of your throat for 1 second, then swallow. This should be done 3 times". Do not use this product If you are allergic to Peanuts or Soya.

Nytol Benefits
As Nytol is an antihistamine it can also be used to relieve the symptoms of allergies including hay fever and the common cold. It is also used to prevent and treat travel sickness, nausea and vomiting. This medication may also prove effective for the treatment of rashes, itching, sore throats, coughing, runny noses, and sneezing.
The benefits of a good night's sleep cannot be underestimated and people that regularly get 6 - 8 hours sleep per night can benefit from a boosted immune system, improved mood and memory as well as an increase in productivity.
Nytol Side Effects
As this medication is generally well tolerated side effects are rare but may include a dry mouth and day time sleepiness. This medication should be avoided If you are allergic to diphenhydramine hydrochloride or any of the other ingredients. Patients are advised to read the enclosed patient leaflet before use. If you are pregnant or have an underlying medical condition it is recommended to consult with a medical professional before taking this medication. Do not take with alcohol.

Nytol Sleeping Tablets Vs Zopiclone
The benefits that strong sleeping pills like Zopiclone have over Nytol products is that they have been specifically designed to treat Insomnia. Although Nytol sleeping tablets can be an effective treatment, the role of antihistamines is primarily to treat allergies, the drowsiness that they offer does not ensure a full night's sleep and does not help repair the body's sleep wake cycle. Zopiclone on the other hand is regarded as one of the most effective sleep aid medications available on the market. Taken over a course of 14 - 28 days Zopiclone sleeping tablets not only help you to get to sleep and stay asleep they also help repair the body's sleep wake cycle. By having a set bed time during the course of the medication the body develops a sleeping pattern that can be maintained after the course of medication has been completed.
When you buy sleeping tablets online in the UK no consultation or doctor's prescription is required and patients can avail additional savings when they order up to 1 month's supply. At our online pharmacy, www.bestsleepingtablets.com/ customers can also buy Eszopiclone, Zolpidem and Nitrazepam, as well as a range of anti-anxiety medication and painkillers.
CONTENT CHECKED: 09th AUG 2022
NEXT CHECK DUE: AUG 2023